Tears, wailing, sorrow, grief, pain, agony; none of these words can totally explain the plight of the Nigerian citizens in the ensuing violence that has engulfed the entire spectrum of our Nation. From North to South, East to West, there is no longer a safe haven; cities and suburbs, civilian quarters and military formations, Churches and Mosques, the young and the Elderly, connected persons and ordinary citizens; nowhere nor anyone is safe. Unfortunately, the toll of lives cut short continue as there seems to be no respite in sight; the media continues to keep tally of the carnage and arson that occur daily even as the perpetrators continue on the rampage. Government's complacency adumbrates a complete failure in the political social responsibility of securing lives and livelihoods. As the death toll from Owo rolls in, questions filter in: how many more tears must flow before government steps up with a sustainable solution?
SDG 16
'Promote peaceful and inclusive societies for sustainable development, provide access to justice for all and build effective, accountable and inclusive institutions at all levels'. For there to be sustainable development, SDG 16 must be given due attention. As we continue counting the tears flowing in Nigeria, one begins to wonder how committed the government is in achieving the SDGs. In Nigeria today, Peace has become more scare than the USD; there is palpable fear in the land. Merchants of terror are becoming bolder and ubiquitous; they seem to enjoy the tolerance and lethargy of the government; they thrive in their campaign of arson and dehumanizing atrocities. Even jungle justice now has a human face and enjoys legal representation. Justice lives very far away from the victims while tribe, faith and sycophancy have obliterated the path to justice (access denied or non-existence). How else can one explain a situation where lives are lost and no one is held accountable; inclusiveness is a mirage; its absence makes our diversity a derision and a folklore.
The Charge
The first thrust of SDG 16 is to 'significantly reduce all forms of violence and related death rates everywhere'. To our chagrin, government is gradually moving security back to the people: villagers are blamed for not providing information to the military even though the government is aware the same villagers live under siege, unable to go farm, paying levies to their oppressors and sometimes paying with their lives. Other times politicians are blamed for inciting violence, yet no politician has been arrested and prosecuted for such crime against humanity. So, a disgruntled politician can decimate a community just to register his disaffection with a political opponent. However, political social responsibility charges government at all levels to significantly reduce all forms of violence and related death rates everywhere in Nigeria. Students have been kidnapped from their place of learning, yet to return home; their parents are heartbroken and access to education is impaired. Travelers have been killed, maimed and kidnapped, yet to be rescued; letters of threat are written to communities and the threats eventually acted out. Highways and robbed in broad daylight, valuables taken away and innocent lives destroyed.
More Tears in Owo
Innocent worshippers at St. Francis Catholic Church Owo, Ondo State have joined the death toll and their families thrown into mourning. As usual, condemnations flow with no actions to curtail the violent spree; the only action that is constant is the sea of tears from the bereaved families, women and children. How many more tears would flow before Nigerian lives begin to matter? How did violent extremism become a common-placed occurrence in our country? As we launch out for answers to these questions, one begins to rethink the social contract between the government and the people – why the people have become helpless in the face of unprovoked aggression. Counting the tears have become the resort of the helpless masses. Unfortunately, the hype and pomp of electioneering and politicking have swallowed the voices and wailings of the victims of violent extremism, yet, the tears continue to flow.
Counting from the other side
Whereas the SDG mandate is global, its gains would truly deliver sustainable development only when the SDG goals are achieved globally, not only by the well-to-do. The trend of violence in Nigeria is not totally out of sync with what obtains in some other parts of Africa where violence has continued unabated. It is only proper that the UN and other members of the global citizenry begin to think of ways of helping the helpless, especially governments that seem visibly overwhelmed by the exacerbated security situation. Aids and grants may no longer deliver sustainable development if no serious concerted action is taken on security in Africa. Malaria, HIV, Tuberculosis, which attract more aids and grant, are presently contending with violent-extremism in terms of rate of deaths. While medications and vaccines can cure or manage malaria, HIV and tuberculosis, only peace and security can curtail violence extremism. Until help comes from within or outside the shores of the country, the cheapest reaction remains 'Counting the Tears'.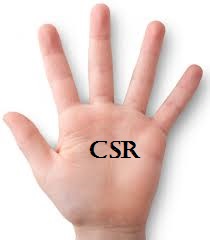 The CSR Arena is a CSR advocacy and sustainability-reporting-analysis champion. We encourage and celebrate effective CSR and positive social impact by responsible corporate citizens; we celebrate international best practices in sustainability reporting across different economic divides. Our goal is to realize the dream of development scholars that, 'corporates, more than governments, would bring about the much needed sustainable development across the globe. We partner with FBOs, NGOs, CBOs, governments and corporates to spread the message of sustainable development and corporate sustainability. Our platforms bear tales of good corporate citizenship – grab the microphone that you may be heard.  Contact: news@thecsrarena.com