Courier and Logistic service provider, UPS, has released her latest sustainability report to stakeholders. The UPS 2018 Corporate Sustainability Progress Report, the 17th in the series, highlights the company's progress towards continuous improvement, leadership, and transparency towards CSR, social utility, environmental stewardship and shared prosperity. The 2018 Corporate Sustainability Progress Report, prepared in line with GRI guidelines, shares stories of UPS's performance, initiatives, and engagements during the reporting period of calendar year 2018. The report was reviewed by Deloitte & Touche LLP who provided limited level of assurance on management's assertion over the sustainability disclosures. The report is delivered in PDF http://bit.ly/2kuWcv9 and digital http://bit.ly/2kaRMJD  copies.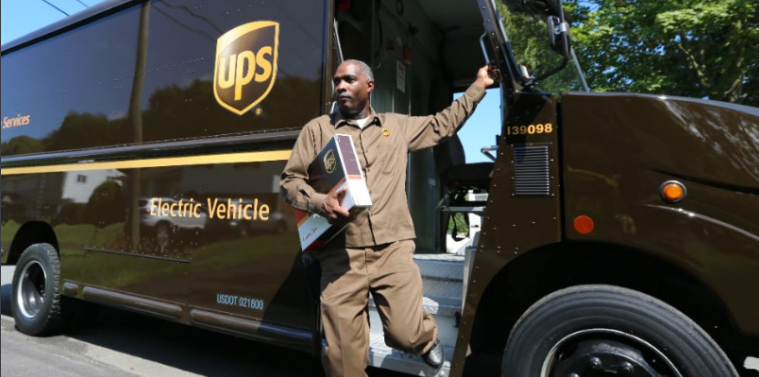 From delivering packages between cities to transporting freight across borders, UPS remains a critical player in facilitating global trade and supporting the world economy. About 3% of global gross domestic product (GDP) flow through UPS network every day, thereby making the company a key part of her customers' supply chains, helping them reach new markets, while enabling sustainable social and economic development.
In the words of the Chairman and CEO of UPS, David Abney, "But the world is changing fast, and we do not take this leadership position for granted. We've earned our leadership role as a result of more than 112 years of embracing innovation, being first-movers in nascent marketplaces, and making our competitors chase and copy our bold moves". On how this competitive advantage translates to social impact, Abney submits, "Simply put, we've understood that there's a reason our windshields are bigger than our rearview mirrors, and we've always embraced the future. Today, we're managing the impact of new competitors, as well as megatrends such as e-commerce, urbanization, technological innovation, and climate change that are fundamentally shifting markets and everyday life". Efforts and progress made in this direction are detailed in the report.

CREATING TOMORROW, SUSTAINABLY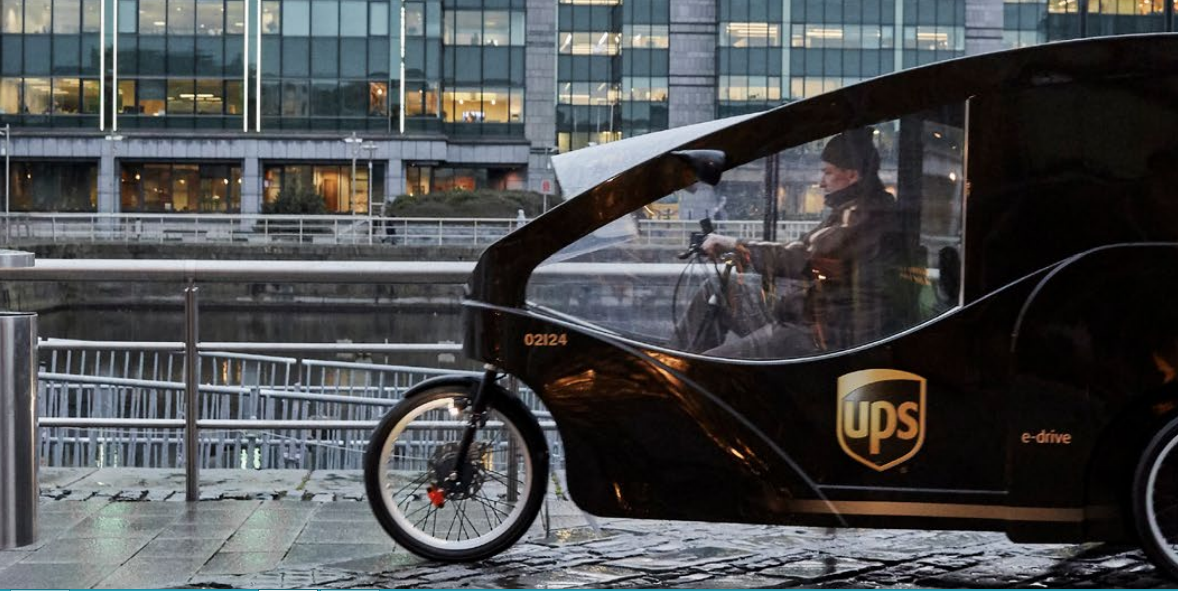 Central to the commitment of UPS to sustainability reporting is the resolve towards creating a sustainable future. The company's sustainability policy thrust captures the whole essence and strategy – "Our business sits at the intersection of disruptive trends, such as rapid urbanization and e-commerce growth, and associated challenges, such as congestion and climate change. Through continuous transformation, we are capitalizing on disruption to shape a future in which more people prosper, enterprises run more efficiently, and resources are conserved for future generations". UPS is fully committed to creating a future that is connected, sustainable, and inclusive.
EMPOWERING PEOPLE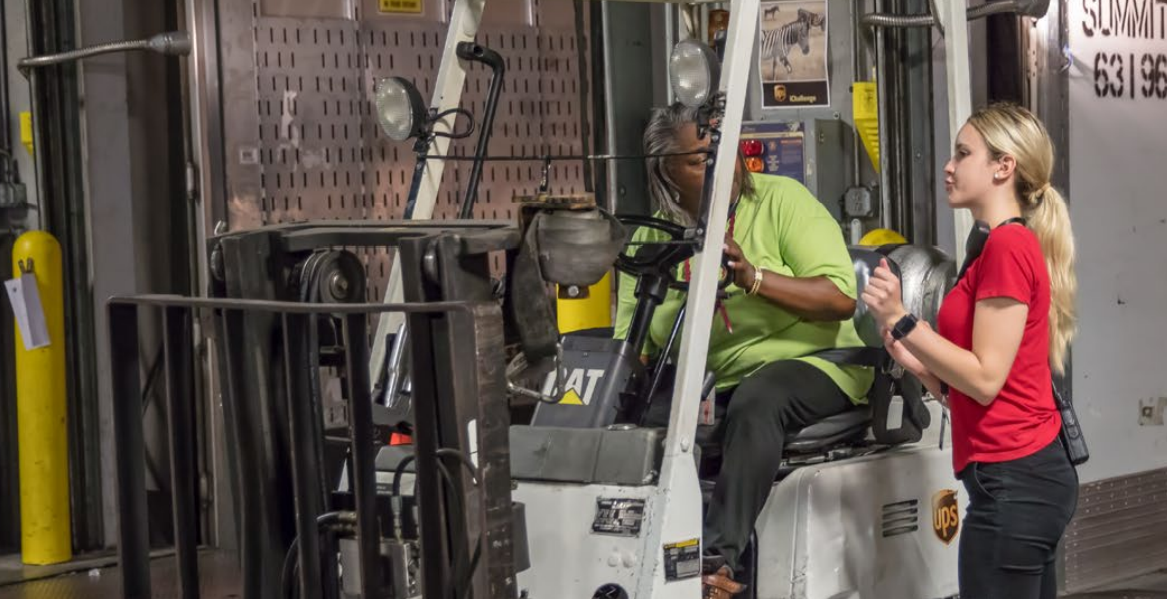 UPS employs more than 481,000 people. The company's CEO believes that 'the current transformation at the company would not be possible without a strong team. That's why UPS is fostering a culture focused on innovation and agility, encouraging UPSers at all levels to think like entrepreneurs and act in bold new ways. In 2018, UPS introduced a new internal competition in which dozens of start-up teams pitched their ideas to UPS leadership. Four teams received funding in 2018 to operationalize new solutions and services that will help customers streamline returns, reduce waste, and conduct transactions more safely. UPS also hosted hack-a-thons in collaboration with community partners, during which UPSers contributed their technical expertise to bring new thinking to big challenges.
UPS positively impacts thousands of communities across more than 220 countries and territories – thereby earning the reputation of a valued community partner. UPS is developing tools and partnerships to connect with small business owners in local communities, particularly women, through capacity-building programs that empower them to participate in global trade, thereby promoting inclusiveness.
At UPS, the view of sustainability is broad and interconnected, extending beyond the environment to include the long-term economic viability of her business and that of her customers; the empowerment of people, and the needs of communities around the world. UPS prioritizes employee safety and we has set goals to reduce incidents of lost-time injuries and auto accidents.
HIGHLIGHTS OF THE 2018 CORPORATE SUSTAINABILITY PROGRESS REPORT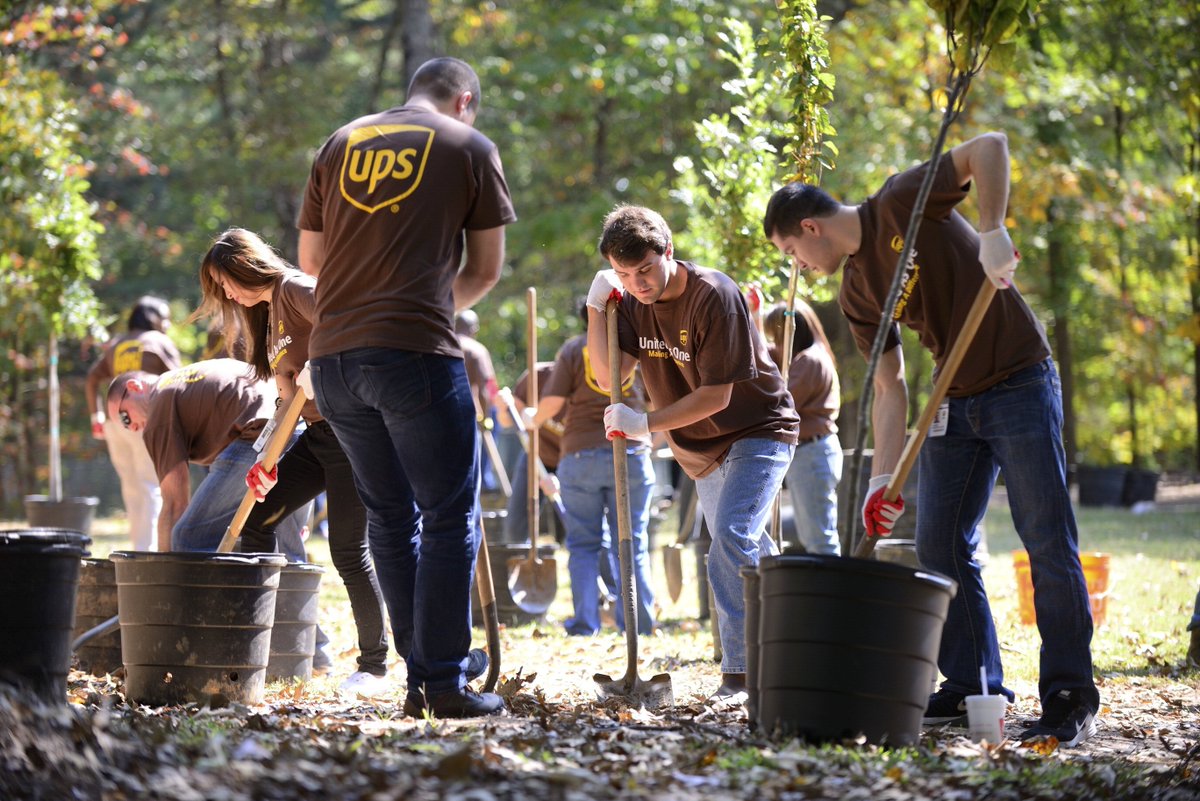 Operates over 10,000 alternative fuel or advanced technology vehicles
Over 481,000 direct jobs globally
5% reduction in overall carbon intensity
4% reduction in CO2 emissions from U.S. supply chain and freight operation
7% reduction in global CO2 emissions from airline fuel on freight operations.
Purchased 119 million gallons of alternative fuels, which represents 22% of UPS total ground fuel usage.
Contributed 3 million volunteer hours, with equivalent economic value of more than $76 million
Planted 2.7 million trees through employee volunteer projects and grants to UPS environmental non-profit partners.
$15 million invested in diversity and inclusion projects by the UPS Foundation
$2.6 billion paid to small and diverse suppliers in 2018
1,000 small and medium business owners introduced to international trade opportunities
Contributed $400,000 to the American Red Cross Annual Disaster Giving Fund
Responded to 29 disasters around the world; donated over $2 million in the wake of Hurricanes Florence and Michael; funded more than 200 shipments of supplies, and coordinated relief efforts on the ground.
Shipped construction and building materials to communities still recovering from Hurricane Harvey; sent 53 relief shipments on behalf of UNICEF to communities affected by Hurricanes Irma and Maria.
Transported shelter supplies to a refugee camp in Bangladesh for refugees fleeing violence in Myanmar and partnered with the Salvation Army to install solar-powered LED lighting in temporary housing.
OUTLOOK FOR THE FUTURE
UPS has set an ambitious goal to reduce the absolute GHG emissions of her global ground operations 12% by 2025. This goal is backed by three supporting targets to spur the use of renewable fuels and new technologies throughout her operations:
Ensuring that by 2020, one in every four vehicles purchased by UPS will employ alternative fuel or advanced technology
To ensure that by 2025, 40 percent of all ground fuel used by UPS will come from sources other than conventional fuels
About 25 percent of total electricity consumed will come from renewable sources.
Success in these social goals is equally critical to business success, as the company believes that investments in innovative technologies will also pave way for sustainable benefits and market adoption. By the end of 2020, UPS aims to have volunteered 20 million hours, planted 15 million trees, and made $117 million in annual charitable contributions through The UPS Foundation.
Download the full report here: http://bit.ly/2kuWcv9 . Or access the digital copy here: http://bit.ly/2kaRMJD
ABOUT THE COMPANY
United Parcel Service (UPS) is an American multinational package delivery and supply chain management company founded in 1907. The company serves 10.6 Million in over 220 countries daily, delivering 20.6 Million packages. Operating from over 2500 facilities and 28,000 access point locations worldwide, UPS owns 123,000 vehicles and employs over 481,000 employees. With 564 owned and leased aircrafts, UPS operates 2,320 daily flight segments.
UPS supports customers worldwide with Global Small Package delivery; Logistics and Distribution; Insurance and Financing; Freight Forwarding.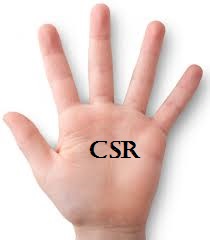 The CSR Arena is a CSR advocacy and sustainability-reporting-analysis champion. We encourage and celebrate effective CSR and positive social impact by responsible corporate citizens; we celebrate international best practices in sustainability reporting across different economic divides. Our goal is to realize the dream of development scholars that, 'corporates, more than governments, would bring about the much needed sustainable development across the globe. We partner with FBOs, NGOs, CBOs, governments and corporates to spread the message of sustainable development and corporate sustainability. Our platforms bear tales of good corporate citizenship – grab the microphone that you may be heard.  Contact: news@thecsrarena.com