The FedEx 2021 ESG Report discusses the company's environmental, social, and governance (ESG) strategies, goals, and programs. The report reflects FedEx ESG progress and performance across her operating companies and geographies in the 2020 fiscal year ended May 31, 2020. This report references indicators from the Global Reporting Initiative (GRI) Standards; it also contains disclosures in alignment with the Sustainability Accounting Standards Board (SASB) and the Task Force on Climate-related Financial Disclosures (TCFD). With a commitment of keeping the world connected, in good times and during periods of great need, the 2021 ESG report tells how well FedEx has fared in meeting this commitment in the year under review. The CEO, Frederick Smith, wets readers' appetite, "As you will find in the following report, through our environmental, social, and governance (ESG) strategies, FedEx has connected the communities where we live and work in remarkable ways". One of such ways is the COVID-19 support provided by FedEx. With more than 80 kilotons of personal protective equipment shipped globally through the FedEx Express; delivery of COVID-19 vaccines, related ingredients, and supplies to more than 25 countries around the world; there can be no better way to create impact in a world under a pandemic.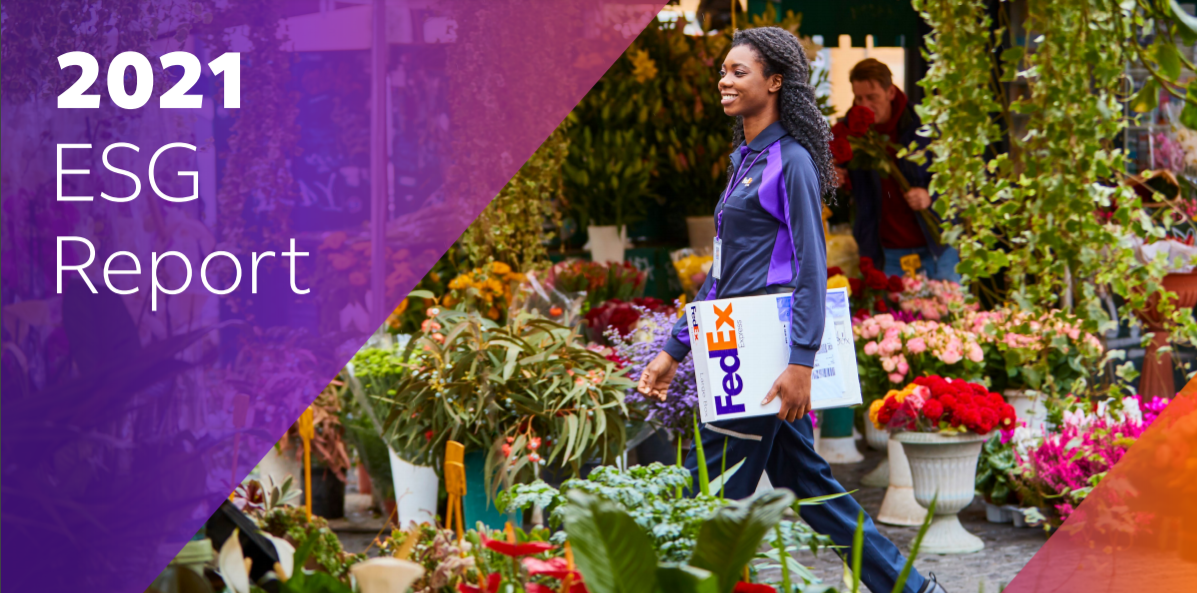 Environmental Stewardship
As part of FedEx longstanding mission to connect the world responsibly and resourcefully, the company recently announced a new goal to achieve carbon neutrality across her global operations by 2040. To make this a reality, three key areas of focus have been identified: vehicle electrification, sustainable energy, and natural carbon sequestration. Connected to this, is the pursuit of truly sustainable air operations, wherein FedEx has pledged substantial support to help establish the Yale Center for Natural Carbon Capture. The new center is expected to accelerate research into methods of carbon sequestration at scale, with an initial focus on helping to offset greenhouse gas emissions equivalent to current airline emissions. The Reduce, Replace, Revolutionize approach drives FedEx environmental strategy across three key environmental footprint areas – aviation fleet; vehicle fleet; facilities and materials. In this regard, FedEx has also invested strategically with global NGOs to move people and goods more sustainably around the globe, leveraging team-member expertise to collaborate and drive improvements to urban mobility and clean technology availability. For example, in collaboration with the Rocky Mountain Institute's Third Derivative climate innovation accelerator, FedEx team members are supporting clean technology start-ups in the transportation, packaging, and energy sectors as they scale the business or product for widespread market adoption.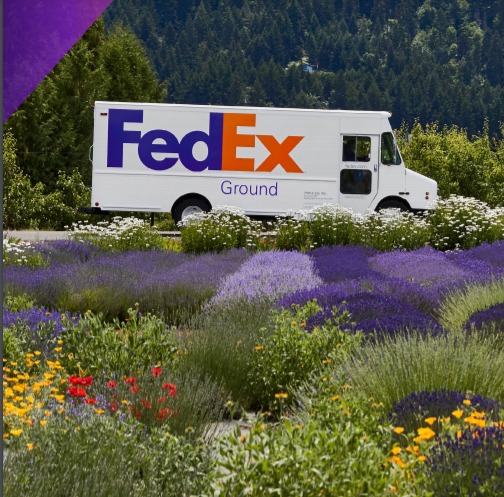 Positive Social Impact
FedEx thrives on a culture built upon people-service-profit philosophy, a quality-driven mindset, and a pledge to make every FedEx experience outstanding. Even in the midst of the restrictions and challenges occasioned by the pandemic, FedEx found new ways to connect with both staff and customers. For example, FedEx increased her outreach regarding benefits like the free telemedicine for FedEx health plan participants and 24/7 confidential counseling for all employees and their household members amid. Inclusiveness in the workplace has been a foundational practice at FedEx, this also witnessed significant improvement in the period under review. One of such improvements is the establishment of a Diversity, Equity, & Inclusion (DEI) Depot, an online platform to create more awareness of DEI-related resources, events, and team member stories across operating companies. Another improvement is the increase in educational opportunities, trainings and we sustenance of employee support communities like, Women in Leadership, Black Professionals Network, Asia Network, U.S. Military Veterans, etc.

Good Corporate Governance
FedEx is committed to the highest levels of ethics, integrity, and reliability; delivered through a strong governance framework which includes the FedEx Board of Directors and its committees. The oversight provided by the Board and its committees, is guided by the FedEx Code of Conduct, which applies to every FedEx Board member and employee globally.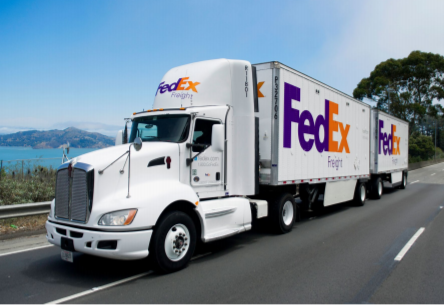 Highlights of the Report
Committed about $4 million in cash and in-kind transportation support to several non-profits that focus on helping underserved communities
Launched symptom-screening processes, including temperature testing, and implementing free voluntary COVID-19 testing for eligible team members and vendors in more than 40 U.S. cities and various other locations around the globe.
Helped HHS and FEMA establish logistics and transportation support of COVID-19 test samples from community-based test sites to labs for analysis.
Flew 132 essential healthcare charter flights, delivering more than 80 kilotons of PPE, including more than 2.2 billion masks, millions of test swabs, face shields, gloves, surgical gowns, goggles, ventilators, test kits, swab manufacturing machines, and dialysis solutions.
Connected over 25 countries to enable the global vaccine supply chain.
Achieved 27% reduction in aircraft emissions intensity; improved vehicle fuel efficiency by 44.5%
Built out an electric vehicle infrastructure of 515 chargers supporting over 1,000 electric vehicles
100% of cardboard packaging are recyclable and composed of 45% recycled content
24,512,386 KWh of solar electricity generated on-site with 13,225 metric tons of Co2 avoided through solar.
303,906 full- and part-time team members hired globally in FY20.
$15,284,079 provided in tuition assistance to 9,961 employees to further their education.
Download the full report here: https://bit.ly/3v3F9iG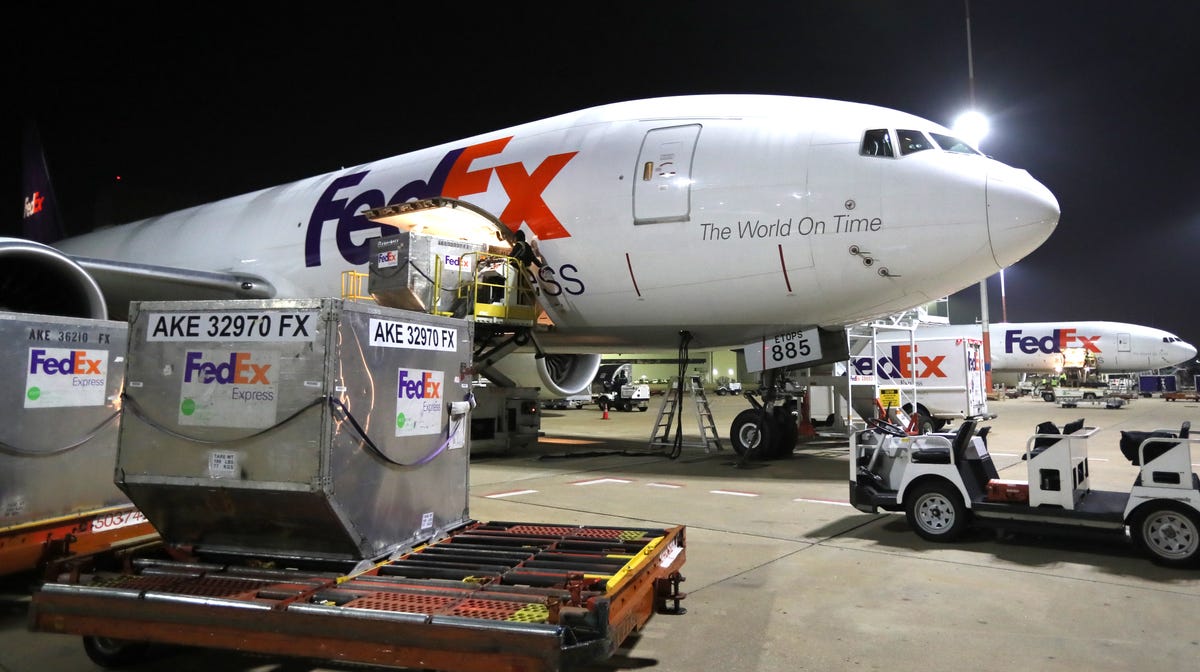 FedEx
FedEx is an American multinational delivery services company founded by Frederick W. Smith in 1971 with headquarters in Memphis. FedEx provides a broad portfolio of transportation, e-commerce, and integrated business solutions through operating companies competing collectively, operating collaboratively, and innovating digitally under the FedEx brand. The company employs over 600,000 staff globally.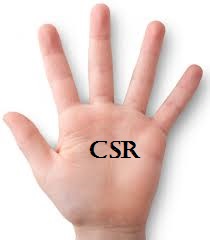 The CSR Arena is a CSR advocacy and sustainability-reporting-analysis champion. We encourage and celebrate effective CSR and positive social impact by responsible corporate citizens; we celebrate international best practices in sustainability reporting across different economic divides. Our goal is to realize the dream of development scholars that, 'corporates, more than governments, would bring about the much needed sustainable development across the globe. We partner with FBOs, NGOs, CBOs, governments and corporates to spread the message of sustainable development and corporate sustainability. Our platforms bear tales of good corporate citizenship – grab the microphone that you may be heard.  Contact: news@thecsrarena.com