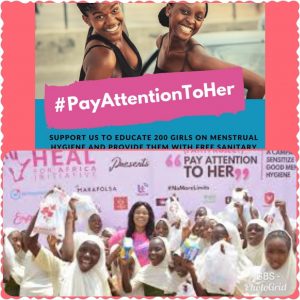 A Nigerian NGO, Heal for Africa Initiative, is leading a campaign aimed at promoting menstrual hygiene among school girls in Secondary schools in Nigeria through her programme entitled, 'Pay Attention To Her' (PATH). PATH focuses on sexual and reproductive health, rights of girls and women, reorientation and enlightenment of school girls about all female health issues. PATH was launched in June 2018 at Al Ansar Secondary School, New Layout, Kogi State, with over 300 school girls at the inaugural session; the girls received sanitary pads and other hygiene products as part of the campaign. PATH has remained focused in its advocacy in the areas of health, quality livelihood, empowerment and education for the girl child.
Last September, PATH project 2.0 reached out to more schools in Kogi State to consolidate on the success already recorded. October 11, 2018, Path project 3.0 reached out to over 700 girls at St. Monica's College Kabba. The programme, designed to cover the 36 states of the federation and the FCT, would continue in other states of the federation to ensure full coverage and wider reach.  According to the founder of Heal for Africa Initiative, Dr. Kelechi Okoro, "we shall train school girls on personal and menstrual hygiene, and give out sanitary pads and other hygiene products". Dr. Okoro maintained that PATH is committed to changing young girls' perception of menstruation as disgraceful, shameful and dirty. She maintained that young school girls have limited access to affordable sanitary materials, which leads to use of unhygienic options that increase the risk of infections. PATH is leading a new front in Menstrual Hygiene Management (MHM) among the vulnerable, less-informed and under-privileged girls. On the long term impact of PATH, the founder asserts, "Our advocacy goes beyond menstrual hygiene education and donation of free sanitary pads. We are advocating for the use of more sustainable means for these girls: manufacturers are encouraged to produce more eco-friendly re-useable cloth pads so as to reduce the financial burden of buying disposable pads every month. We also advocate for WASH (Water, Sanitation and Health) to sustain effective Menstrual Hygiene Management (MHM)".
Reports show that increasing number of girls in low-income areas miss out or struggle at school during menstruation if they are unable to manage their menstrual hygiene effectively.  While some miss classes, others completely stay away from school during their menstrual period because they do not have access to the resources, facilities, or information they need to for effective MHM. Thus inadequate support for MHM continues to impede the educational performance and future prospects of the girl -child. A study by UN's U-report and World Association of Girl Guides and Girl Scouts (WAGGGS) revealed that 31 percent of young women in Africa are not having enough menstrual education, while another 11 percent had received none; only 59 percent were reported to be receiving an adequate amount of menstrual education. The report suggests that more support to menstruating girls can encourage their school attendance and also improve academic performance.
Most school girls experience their Menarche (first menstrual bleeding) unprepared. The experience often comes with an admixture of confusion and embarrassment. Some had made grave mistakes on how to handle the new developmental challenge right from that point: from use of unhealthy materials to challenges of poor personal hygiene. About 77.8% of school girls in Nigeria experience Menarche between the ages of 11years and 16years. Of this number, only 6.5% of the girls are aware that menstruation is normal when it occurs in adolescence; only about 33.8% know that a menstrual cycle extends from the first day of a period to the beginning of the next period; only a paltry 2.5% of the subjects are aware that normal menstrual cycles vary between 21 to 35 days. This knowledge gap in Menstrual Hygiene Management (MHM) is what Heal for Africa is targeting to close using project PATH.
Except well-structured projects like PATH receive viable support from both the government and socially responsible corporate citizens, not much success would be recorded in promoting MHM among school girls in Nigeria and other African countries. The PATH project fits into the global advocacy for improved and increased reproductive health education. PATH also aligns with the targets of SDGs 3 – ensure healthy lives and promote well-being for all at all ages. PATH seeks to ensure that global advocacy efforts like the world Menstrual Hygiene Day, celebrated annually (May 28), have sustainable impact on the target population.  In 2016, 34 countries held 180 events to celebrate Menstrual Hygiene Day; the toll rose to 54 countries and 350 events in 2017; in 2018 70 countries hosted 475 events to mark the day. As the awareness continues to grow globally, PATH is taking the campaign to the girls, right in their classrooms; thus, PATH is pursuing mass enlightenment of school girls while at the same time mixing enlightenment with empowerment by giving-out sanitary pads to these girls.
Through project PATH, Heal for Africa Initiative is set to heal the wounds of ignorance, neglect and dearth of MHM facilities affecting school girls and young women in Africa.
#SupportPATH   #MHM4schoolgirls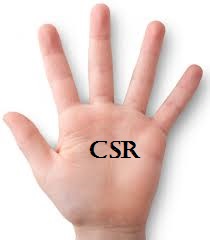 The CSR Arena is a CSR advocacy and sustainability-reporting-analysis champion. We encourage and celebrate effective CSR and positive social impact by responsible corporate citizens; we celebrate international best practices in sustainability reporting across different economic divides. Our goal is to realize the dream of development scholars that, 'corporates, more than governments, would bring about the much needed sustainable development across the globe. We partner with FBOs, NGOs, CBOs, governments and corporates to spread the message of sustainable development and corporate sustainability. Our platforms bear tales of good corporate citizenship – grab the microphone that you may be heard.  Contact: news@thecsrarena.com