Development scholars agree that corporates would perform better as catalyst for sustainable development when they entrench sustainability principles and practices into their corporate culture and strategy. Dangote Cement Plc fits perfectly into the model of corporate citizens who have successfully and consistently fused their economic mission and their social responsibility into one. A look into the 2019 sustainability report of Dangote Cement reveals how the Cement giant is fulfilling her obligations as a good corporate citizen, creating shared value and promoting inclusive prosperity for all stakeholders. The report, prepared in accordance with the GRI guidelines for sustainability reporting, presents a scorecard of the company's sustainability performance for the year under review. The company's success in enshrining sustainability practices into her corporate culture and succeeding at it is traceable to a conscious effort powered by a well-groomed strategy christened, 'The Dangote Way'. The sustainability drive of Dangote Cement is further emboldened by her commitment to international best practices [in 2010 Dangote Cement signed up as a member of the United Nations Global Compact (UNGC)]; this is powered by the singular purpose of contributing meaningfully to the social, economic and environmental wellbeing of all the countries of her operations.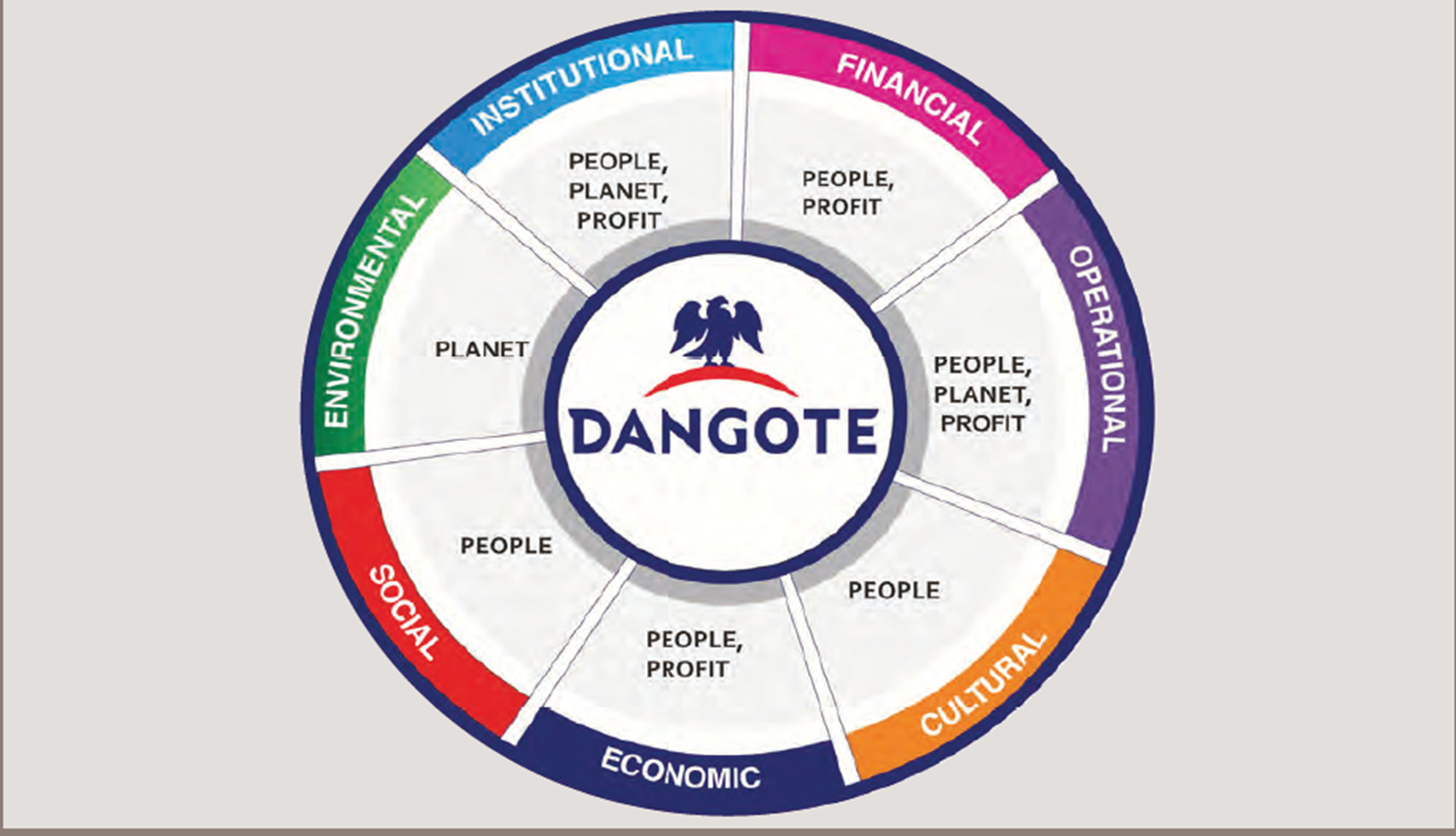 In his message to shareholders at the presentation of the 2019 sustainability report, the chairman of the company, Mr. Aliko Dangote, provided a value proposition on how these initiatives have impacted on the company's sustainability performance. On the impact of the UNGC principles on the company's sustainability performance, the chairman further remarked, "exactly a decade later, we are pleased to say that we have progressively entrenched these principles into our sustainability strategy, ensuring that they guide our business policies and practices, especially in the way we engage our diverse stakeholders and partners within our value chain".  On how these translate to value creation for her multiple stakeholders, the chairman continued, "We are aware of the environmental and social challenges which currently plague our world, including rising cases of unusual diseases for instance the COVID-19 pandemic, socioeconomic inequalities, youth unemployment, environmental degradation and of course, the menace of climate change and global warming". Alhaji Dangote concludes, "As a leading African business conglomerate, we recognize that we have the privilege as well as the responsibility to work with other stakeholders in tackling these challenges systematically, and with a sense of determination. This has engineered our development of sustainability initiatives that reflect the importance that we attach to our economic, social and environmental performance. This commitment is further demonstrated in the enthusiasm with which we continue to operationalize our 7 Dangote Sustainability Pillars: Institutional, Operational, Financial, Economic, Environmental, Social and Cultural, which collectively reflect the ethos behind The Dangote Way".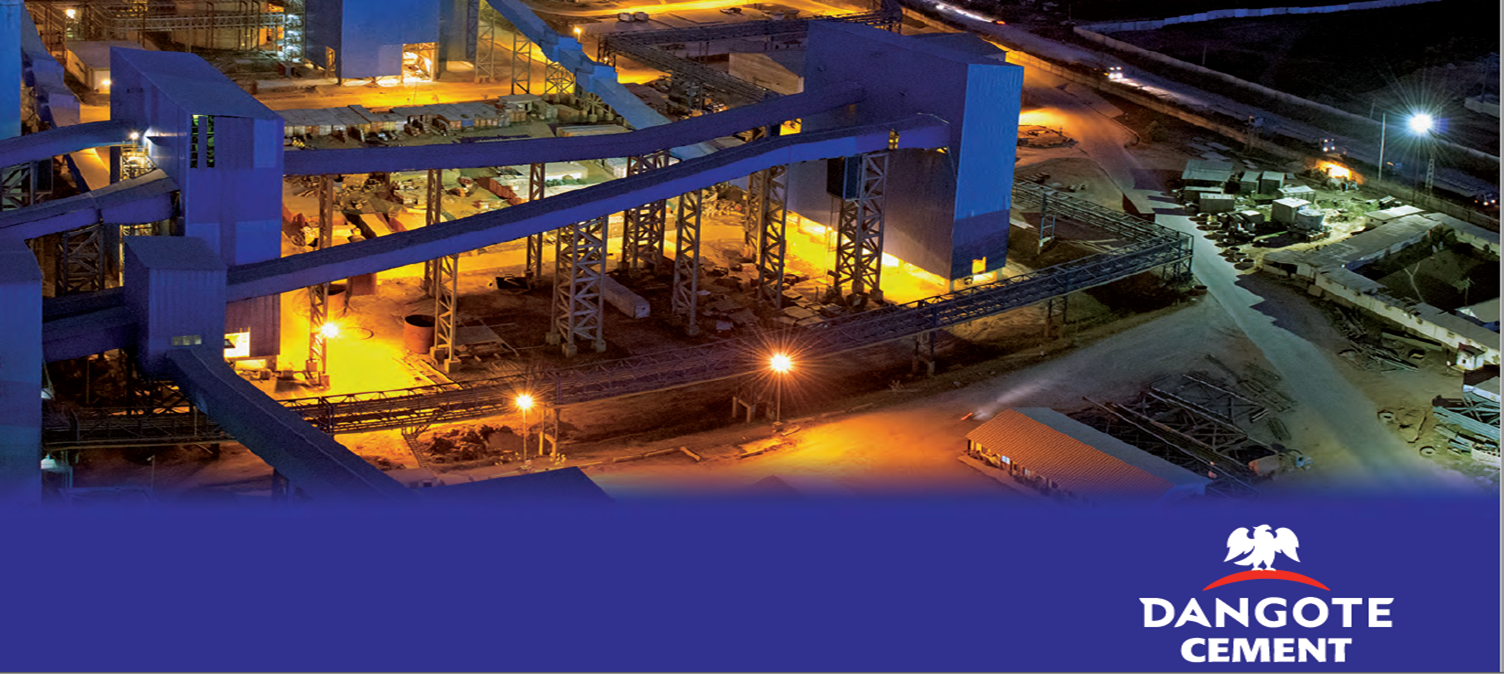 WINNING 'THE DANGOTE WAY'
Sustainability performance is measured across the 3 sustainability KPIs – Economic, Social and Environmental. Dangote Cement has over the years reported considerable success in her sustainability efforts by simply following through her home-grown strategy – The Dangote Way. This strategy stands on 7 pillars, namely: Institutional, Operational, Financial, Economic, Environmental, Social and Cultural; these pillars, together, uphold the company's success around the 3 KPIs of sustainability. By adopting the 7-pillar approach, the company ensures sustainability is engrained into her business decisions, processes, and practices. Thus Dangote Cement remains committed to ensuring that the highest level of governance continues to champion her sustainability vision, goals, and objectives, while building an institution that is governed by values and ethical norms of behavior, where effective governance is flagged as the driver of corporate performance, not just in financial numbers but in social and environmental impacts.
Institutional Pillar – The Institutional Pillar supports the drive to build a world class institution centered around good corporate governance, proactive risk management and sustainability principles that promote legal and regulatory compliance, transparency, integrity, business continuity and purpose driven leadership. The company's governance approach involves balancing business interests with those of her valued stakeholders, which include shareholders, employees, customers, suppliers, financiers, governments, and host communities.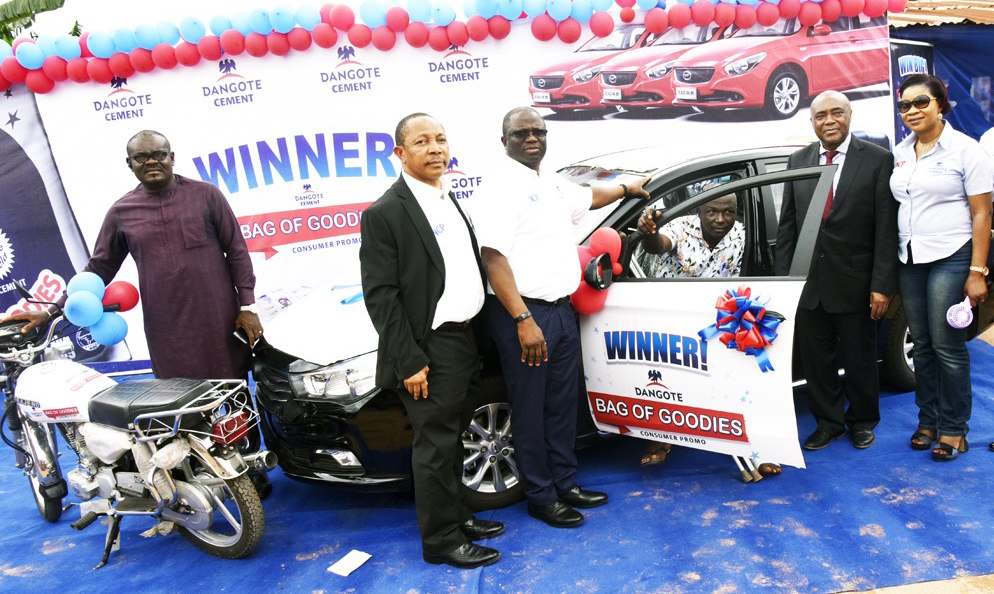 Operational Pillar – The Operational Sustainability Pillar defines how the company serves and satisfies her markets by working together with partners to deliver best quality products and services to her valued customers and stakeholders through continuous product improvement and innovation, new business development, employment of state-of-the-art technologies and systems to constantly optimize cost-efficiencies and competitiveness. Driving operational efficiency requires maintaining the highest standards in product responsibility, product quality, products information dissemination and labelling, efficient production processes as well as service delivery that exceeds the expectations of customers. Results include 23.7 mt of output achieved in 2019; over N434billion paid to local (66%) and foreign suppliers (34%); Nigerian distribution chain grew significantly from 7,000 to 10,000 retailers just as distributors increased from 568 to 685; over N2billion in give-aways: 39 cars, 24 tricycles, 24 motorcycles, 550 refrigerators, 400 television sets and ₦220 million cash given away to customers under the DBOG promo; 71,500 indirect jobs created across the distribution network
Financial Pillar – The Financial Sustainability Pillar focuses on achieving sustainable financial health through a business model that delivers strong returns to shareholders, whilst creating value in all the economies in which Dangote Cement operates, by selling high-quality products at affordable prices, supported by excellent customer service. Financial results for the period under review show a revenue of ₦891.7B, EBITDA of ₦395.4B and dividend pay-out of ₦16.00 per share. A total of N174.95B was invested in capital assets across Africa.
Economic Pillar – The thrust of the economic pillar is to promote inclusive economic benefits, self-reliance and self-sufficiency through the sustainable industrialization of Africa's key markets for the benefit of all stakeholders thereby creating long-term value for local and national economies that host the operations of Dangote Cement. The approach is to invest in growing economies thereby ensuring continuous growth in profit. Results from the 2019 sustainability report show 54,005 jobs sustained across four African markets – Nigeria, Ethiopia, Senegal and South Africa, thus contributing ₦146 billion to household income in these markets; also, about ₦1.2 Trillion contributed to four National economies in 2019.

Environmental Pillar – This pillar drives environmental sustainability by identifying, measuring, and mitigating actual and potential negative environmental footprints in all the company's operations. The goal is to improve the company's performance in energy efficiency, waste management, water consumption, greenhouse gas emissions, and to leverage the opportunities in environmental responsibility, such as the medium to long term eco- efficiency and reputational capital offered by the circular economy business model. According to 2019 results, Dangote Cement plants maintain average dust emissions at the stacks in a range between 20 and 30 mg/Nm3, which is below limits set by  IFC and the World bank; achieved 1.56% reduction in energy consumption; however, water consumption across all operations grew by 8.74% due to new projects opened during the year.
Social Pillar – This pillar is dedicated to Nurturing the growth and wellbeing of employees and host communities of Dangote Cement. By this the company strives to support socio-economic wellbeing through direct and indirect employment, skills transfer, local entrepreneurial development and patronage of local suppliers and contractors. The 2019 sustainability report also disclosed far-reaching impacts delivered by the social pillar, including: ₦1.108 billion invested in communities; provided water for 187 households in rural South Africa and another 100 households in Zambia; 710 students offered scholarships in Obajana, Gboko and Ibese communities in Nigeria; provided lunch for over 2,500 students; 25 primary/secondary schools reached under SDG4; provided 5 medical outreaches across different locations.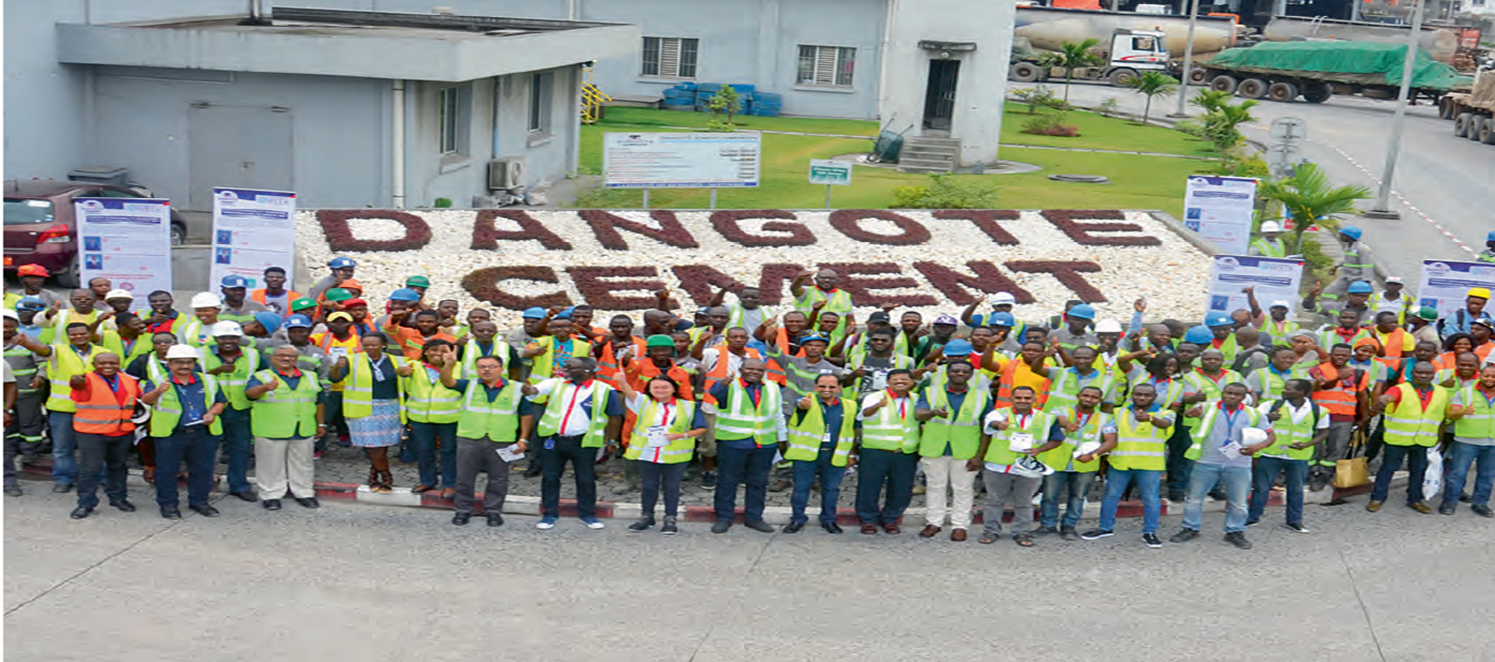 Cultural Pillar – The cultural pillar is the foundation upon which the organizational ethos of Dangote Cement is built. Through this pillar, the company ensures that sustainability is embedded in her corporate culture. This includes an embodiment of ethical business, professionalism, anti-corruption, brand loyalty, excellent corporate governance, mutual trust, and respect among all stakeholders. Dangote Cement continues to ensure that every staff member across every hierarchy, and every operational activity in the organization functions in line with these guiding principles. The 2019 sustainability report reveals more commitments in this direction: 18,064 direct employees including 8,854 permanent staff of which 807 are female; 15% of work force are below 30 years while employees aged 30 to 50years account or 71% of employees, including women; a total of N598.5million spent on staff training; a total of 2608 training hours completed across 12 sustainability training initiatives involving 249 employees; 11,504 employee volunteer hours donated by staff to sustainability initiatives.
OUTLOOK FOR 2020
For the GMD/CEO of Dangote Cement, Michel Puchercos, the company is on track to be a global leader in cement production, recognized for the quality of her products and services, and for the way they conduct their business. He noted that 2019 has been an important year in the company's sustainability journey, and remarked further, "as Africa's largest Cement Group with a hard-earned reputation for excellent business practices and quality products, our vision is to be a world-class enterprise that is passionate about supporting the wellbeing of the society, while still giving high return on investment to our esteemed shareholders. This, without doubt translates to a world in which communities and societies become more prosperous, safer, healthier and more environmentally sustainable".
Read the full report here: https://bit.ly/3kTKOCA

ABOUT THE COMPANY
Dangote Cement is a subsidiary of Dangote Industries, which was founded by Aliko Dangote in 1981 as a trading business with an initial focus on importation of bagged cement and other commodities such as rice, sugar, flour, salt and fish. Over time, the Group began to import bulk cement into the Apapa and Port Harcourt terminals, which it then bagged for distribution. In the 1990s, the Group made a strategic decision to transition from a trading-based business into a fully-fledged integrated manufacturing operation. Today, Dangote Cement Plc is Sub-Saharan Africa's leading cement company, with operations in ten countries and employs over 18,000 staff.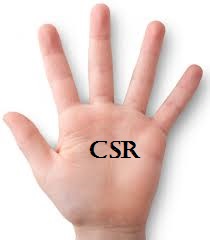 The CSR Arena is a CSR advocacy and sustainability-reporting-analysis champion. We encourage and celebrate effective CSR and positive social impact by responsible corporate citizens; we celebrate international best practices in sustainability reporting across different economic divides. Our goal is to realize the dream of development scholars that, 'corporates, more than governments, would bring about the much needed sustainable development across the globe. We partner with FBOs, NGOs, CBOs, governments and corporates to spread the message of sustainable development and corporate sustainability. Our platforms bear tales of good corporate citizenship – grab the microphone that you may be heard.  Contact: news@thecsrarena.com