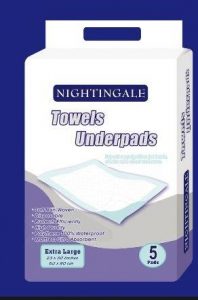 Care givers in maternity wards, need to be protected from secondary infections from body fluids and secretions;  even ward Maids cleaning the wards after delivery need to be protected. Incontinent patients need not become bedwetters. These are issues that cannot be overlooked in ensuring healthy lives and promoting well-being for all ages, as provided under the SDGs goal 3. One product addressing these concerns is the Nightingale Towel Underpad.
The Nightingale Towel Underpad is a disposable moisture- absorbent sheet that is placed on a bed, directly under an individual who may be experiencing incontinence problems. The Nightingale Underpad is made to provide comfort on the skin of the user. It provides a better sleeping experience than the rubber mackintosh. It is also used in paediatric cases to prevent infants from wetting the matrass. Nightingale Towel Underpads can also be used when transporting incontinent patients by simply placing the soft absorbent sheet on the car seat to protect the seat from body liquids.
Midwives do not need to worry about new born babies being contaminated with the mother's body fluids usually gathered on the mackintosh; using the Nightingale Towels Underpad ensures that all body liquids are absorbed neatly. Ward Maids have little or no cleaning to do; all they need do is roll – up the used underpad and dispose.  These Underpads are also helpful for VVF patients as they prevent wetness of beddings thereby reducing stigma.
Nightingale underpads are also handy in managing burns patients. When placed under a burns patient, the Nightingale underpad absorbs the oozing from the burns and keeps the skin dry, thereby reducing stickiness and also preventing contamination against non- sterile bedding. Nightingale underpads can also be used during surgical operations.
Nightingale underpads come in a bundle of 10 packs; each pack contains 5 sheets. The size of each sheet of Nightingale underpad is 60 X 90cm.
The Nightingale Towel Underpad is manufactured in Nigeria by Wemy Industries Ltd, Lagos. Wemy is an indigenous manufacturer of hygiene products including baby care, Feminine/Maternity Care and Adult care products.
Now that you know about the Nightingale Towel Underpads and their various uses, you can send your orders/enquiries to the email address: sales@wemydrbrowns.com or call +2348023225949; +2348079650135.
As her own way of improving access to hygiene and healthy living, Wemy undertakes to deliver all orders within Lagos at no extra charges. The product is available in the 36 states of the federation including the FCT.
WEMY CARES ABOUT HYGIENE AND HEALTHY LIVING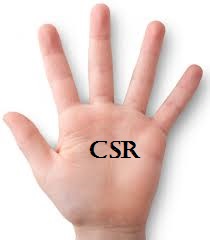 The CSR Arena is a CSR advocacy and sustainability-reporting-analysis champion. We encourage and celebrate effective CSR and positive social impact by responsible corporate citizens; we celebrate international best practices in sustainability reporting across different economic divides. Our goal is to realize the dream of development scholars that, 'corporates, more than governments, would bring about the much needed sustainable development across the globe. We partner with FBOs, NGOs, CBOs, governments and corporates to spread the message of sustainable development and corporate sustainability. Our platforms bear tales of good corporate citizenship – grab the microphone that you may be heard.  Contact: news@thecsrarena.com