Global financial institution, Citi, on May 11, 2020 released her first ESG report to stakeholders. The 2019 ESG report is an upgrade from Citi's global citizenship report which the Citi has been publishing since 2001. This ESG report covers Citi's environmental, social and governance (ESG) activities, performance and approach for calendar year 2019, focusing on the issues Citi considers to be of greatest importance. The 2019 ESG report was prepared in accordance with the GRI Standards: Core option. The report also accords substantially with the United Nations (UN) Global Compact and the UN Guiding Principles on Business and Human Rights frameworks. The report also featured a third-party assurance report by SGS UK Ltd.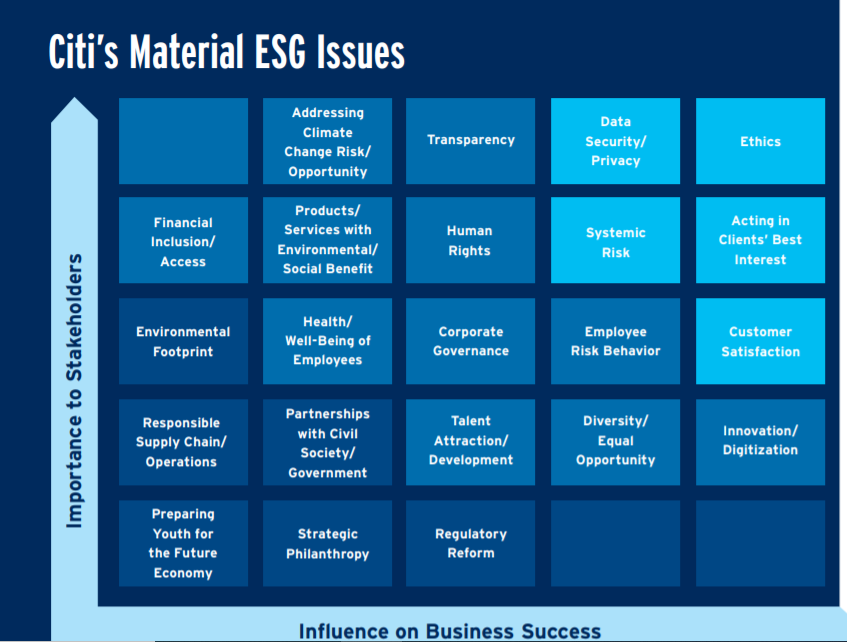 In his address to stakeholders, Citi's CEO, Michael L. Corbat, made a case for corporate sustainability, "That businesses will ultimately be more successful and profitable when they take into account the broader needs of society is not a new idea. But that principle gained new traction in the latter half of 2019, when the Business Roundtable gave fresh voice to it. The new statement of corporate purpose said simply that companies should take the interests of all stakeholders — including shareholders, colleagues, clients, suppliers and communities — into account when making decisions. Who could have imagined just how urgent responsible companies' commitment to serve the greater good would be, less than a year later"? The CEO further commented on the bank's commitment to the global fight against COVID-19, "Banks have a central role to play, both in helping people and communities through the current pandemic and in the ultimate recovery. At Citi, we will continue working with all our clients and customers — individuals, small businesses, companies and governments around the world — to manage the business and economic fallout of this pandemic. We will provide the necessary support, credit and assistance programs that people, institutions and communities will need to rebuild". Citi has also committed over $65 million in aids to enable communities fight the pandemic.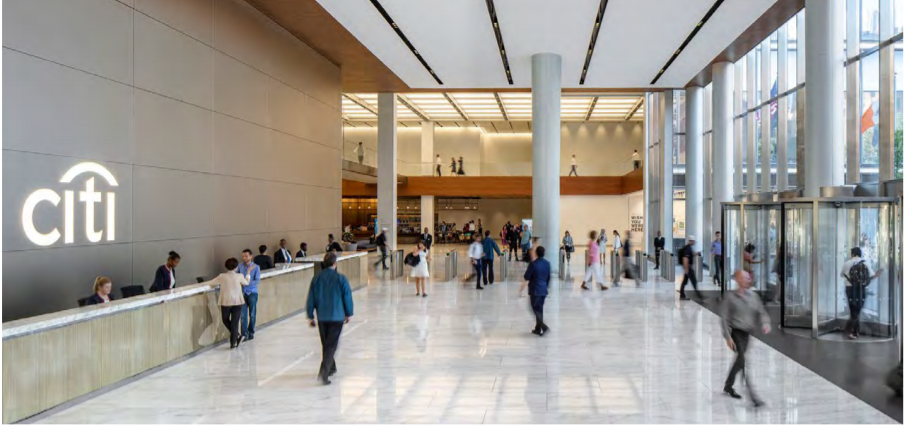 APPROACH TO ESG
On Citi's approach to ESG, Citi continues to spread positive social impact through her operations. This city delivers by consciously bringing life to her corporate mission and vision. Thus, Citi commits to: responsibly provide financial services, serve as a trusted partner; and create economic value. In specific terms, Citi's approach to creating social impact is summarized below:
Executing a business model that adds value to society
Reporting transparently and learning through dialogue
Taking a stand on issues that matter and driving solutions
Maintaining a focus on ethical decision making and responsible business practices
Catalyzing innovation through strategic philanthropy and employee engagement
Executing a business model that adds value to society – The scale and global reach of the bank's business enables her to have significant impact through the products and services offered to the market. Citi delivers financial innovations that meet the needs of her clients while tackling some of society's greatest challenges.
Reporting transparently and learning through dialogue – To successfully meet stakeholders'  expectations, especially as the scope and pace of disclosure evolves, the need to both communicate what is being done and engage in dialogue to understand what more can be done becomes deepens. Citi remains committed to improving her reporting efforts and the methodology for stakeholder engagement.
Taking a stand on issues that matter and driving solutions – As companies are increasingly expected to leverage their corporate voices to benefit society, Citi has chosen to take a stand on a wide range of issues, including climate change, pay equity, immigration, racial equity and gun violence in the U.S. The bank continues to show firm commitment in response to issues that matter to employees, clients, investors and communities.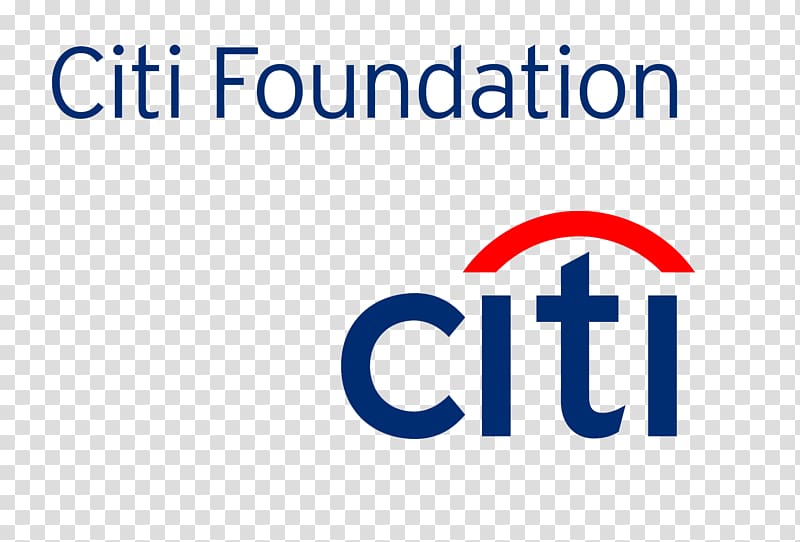 Maintaining a focus on ethical decision making and responsible business practices – Ethical business practices are central to the success of the entire financial services sector and are the foundation of all activities at Citi. Citi places significant emphasis on understanding, improving and fully integrating ethical and responsible practices into all her operations.
Catalyzing innovation through strategic philanthropy and employee engagement – The Citi Foundation supports a variety of philanthropic causes and, wherever possible, develop partnerships with community organizations that allow the bank to catalyze change through innovative and efficient solutions. In 2019, the Citi Foundation provided $76 million in grants that increase financial capability, promote job opportunities for youth and reimagine approaches to building economically vibrant communities. In addition, through Citi businesses around the world, Citi provided $70 million in charitable giving to causes that align with her corporate mission of enabling growth and progress.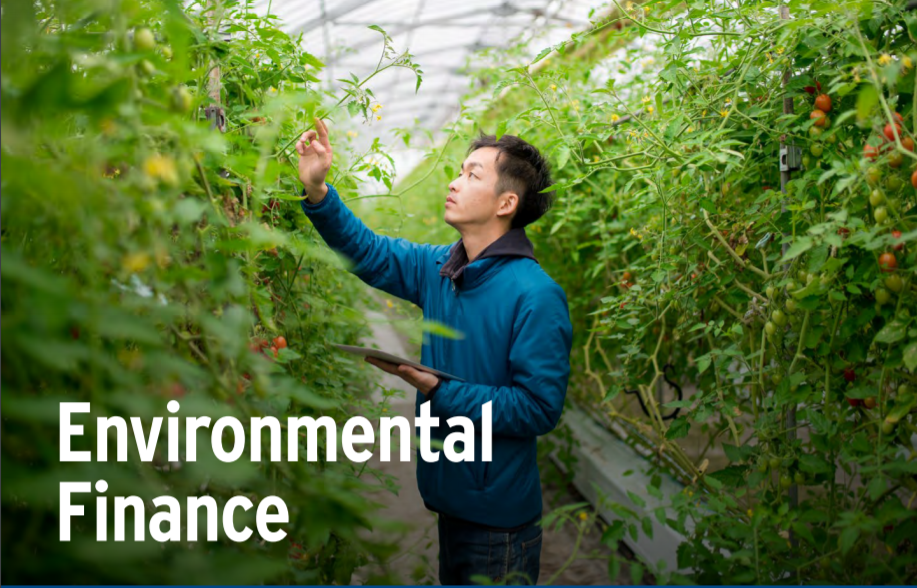 HIGHLIGHTS OF THE REPORT
Launched the $150 million Citi Impact Fund to make equity investments in socially oriented startups.
and companies Launched a $100 million loan guarantee facility (Scaling Enterprises ) in partnership with OPIC and the Ford Foundation, to provide early-stage financing (in local currency) to companies that expand access to financial services for low-income communities in emerging markets.
Provided $6 billion in loans to support affordable housing projects
Invested $194 million (5 years to 2019) to address global youth unemployment and workforce development through its Pathway to Progress initiative
Exceeded the $100 billion goal to help reduce the impacts of climate change through environmental financing
Provided $147 million in grants and charitable contributions
Committed over $65 million in COVID -19 support
$1billion invested, to-date, in lending towards financial inclusion around the globe
$13 billion invested in green building and sustainable transportation projects globally
Download the full report here: http://citi.us/2WPV0kT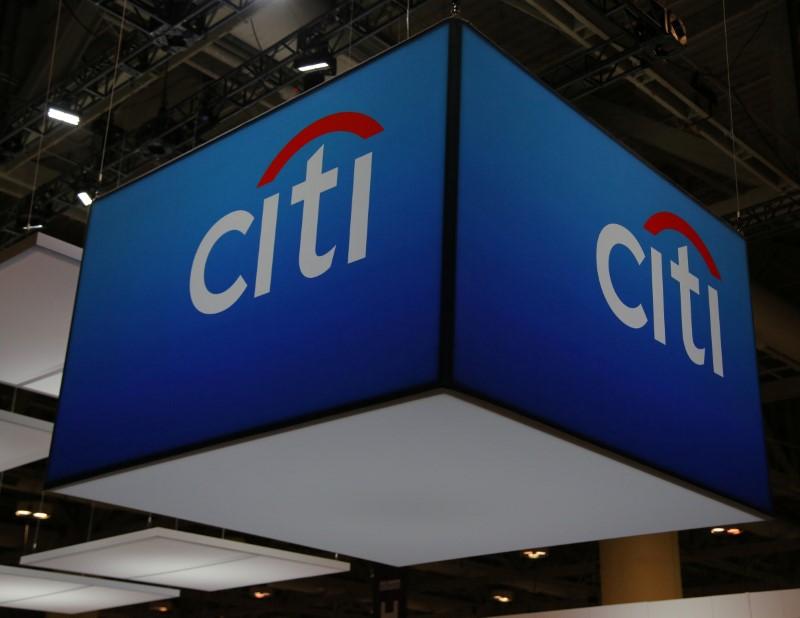 ABOUT CITI
Citigroup Inc is a multinational investment bank and financial services corporation headquartered in New York City. Citi provides consumers, corporations, governments and institutions with a broad range of financial products and services, including consumer banking and credit, corporate and investment banking, securities brokerage, transaction services, and wealth management. Citi employs about 200,000 staff globally, maintains approximately 200 million customer accounts and operates in more than 160 countries.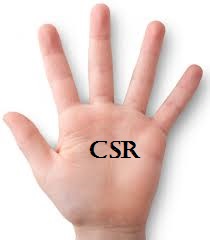 The CSR Arena is a CSR advocacy and sustainability-reporting-analysis champion. We encourage and celebrate effective CSR and positive social impact by responsible corporate citizens; we celebrate international best practices in sustainability reporting across different economic divides. Our goal is to realize the dream of development scholars that, 'corporates, more than governments, would bring about the much needed sustainable development across the globe. We partner with FBOs, NGOs, CBOs, governments and corporates to spread the message of sustainable development and corporate sustainability. Our platforms bear tales of good corporate citizenship – grab the microphone that you may be heard.  Contact: news@thecsrarena.com