Resolutely restructuring to realize sustainable growth. Raising the efficiency of invested capital and ensure the improvement of shareholder value through ASV. Looking ahead to the future era of society, find out how we are challenging to help resolve society's issues and create value.  Full report: http://bit.ly/2PbQJ7M
Read this: " Non-financial performance has financial relevance to investors, meaning reporting professionals from two different worlds need to collaborate to understand what this ESG demand means and how to share non-financial data in a financial context".
So, Get in front of the trend and understand the latest approaches to further collaboration between internal teams.
Webinar Session: 1 – hour
Time: 7:00 PM – 8:00 PM WAT
Date: December 11, 2019
Learning Objectives:- Participants would in this 1-hour webinar, learn how innovative businesses are navigating this reporting landscape. Specific learning outcomes include:
Understand exactly what ESG demand means and how to share non-financial data in a financial context
Cross-team collaboration: Building trust and getting to a place of shared understanding between the two functions
Un-silo ESG: Ensure the sustainability narrative is integrated into investor facing presentations
Looking to the future: ESG ecosystems, reporting standards and internal controls
Speakers:

Anna Pot, Head of Responsible Investment Americas, APG Asset Management
Carrie Christopher, Director Sustainability Reporting, Newmont Goldcorp
Megan Fielding, Head of Strategic Partnerships, Responsible Investing, Nuveen
Daniel Shurey, Vice President of Sustainable Finance, ING
Moderated by Brian Tomlinson, Research Director, Strategic Investor Initiative, Chief Executives, CECP.
Register here http://bit.ly/2ONSLf3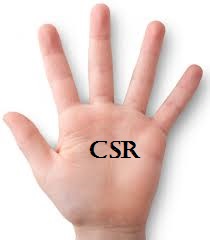 The CSR Arena is a CSR advocacy and sustainability-reporting-analysis champion. We encourage and celebrate effective CSR and positive social impact by responsible corporate citizens; we celebrate international best practices in sustainability reporting across different economic divides. Our goal is to realize the dream of development scholars that, 'corporates, more than governments, would bring about the much needed sustainable development across the globe. We partner with FBOs, NGOs, CBOs, governments and corporates to spread the message of sustainable development and corporate sustainability. Our platforms bear tales of good corporate citizenship – grab the microphone that you may be heard.  Contact: news@thecsrarena.com