Following positive feedback for 2016 and 2017, Olam continues to present her GRI Report as separate to the Annual Report in a Q&A format, responding directly to the GRI disclosure topic and relevant indicators. This process, according to the company, has been helpful when responding to stakeholders who request for similar assessments. The 2018 report covers a wide range of social and environmental risks which could have an impact on Olam's business either directly or indirectly through her supply chains; the reports also details Olam's strategies and successes at managing these ever-evolving set of issues. The report is part of Olam's commitment to ensure balanced reporting of the environmental, social and commercial aspects of her business activities, while being transparent in the process. The 2018 report, prepared in line with the GRI standards, discusses topics most material to the company's business and should be read in conjunction with the 2018 Annual Report available here: http://bit.ly/2UYMq0w.  The 2018 annual report continued in an integrated approach, reporting against both financial and the six non-financial capitals – Manufactured, Human, Social, Natural, Intellectual, and Intangible (brand). Each of these sections includes extensive analysis of sustainability issues and risks as identified by Olam's 10 Sustainability Material Areas, both long-term and during the 2018 reporting period.
ACTING RESPONSIBLY – PRECAUTIONARY APPROACH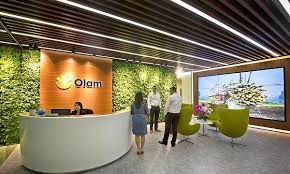 As a global agri-business Olam (and her suppliers) are dependent on the earth's natural resources for their basic process inputs. Olam is signatory to the UN Global Compact and seeks to uphold Principle 7 on the Precautionary Approach. Olam understands that maintaining sustainable yields and growing her business requires her to act as a responsible steward of the environment; spreading the message, Olam also encourages her suppliers and other third-parties to do the same. In ensuring that her business operations avoid or mitigate potential negative impacts, Olam requires all investment cases for any new developments to undergo environmental and social impact assessments and implement the relevant management plans.
Existing operations are guided by a Risk Appetite Framework, as well as a suite of Policies, Codes and Standards. The company's governance structure ensures strict adherence to these principles, supported by regular audits and gap assessments.
PROMOTING SUSTAINABILITY GLOBALLY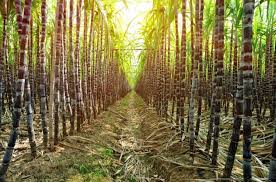 Olam is co-chair for the Climate Smart Agriculture Working Group for WBCSD
In January 2018 CEO Sunny Verghese became the new Chair of the World Business Council for Sustainable Development (WBCSD) for a 2 year term.
Olam continues to be signatories to the UN Global Compact which commits her to upholding its Ten Principles. Olam is also aligning her sustainability strategy to the UN Sustainable Development Goals.
Founding signatories of CocoaAction and Cocoa and Forests Initiative
Board member and Technical Committee sit in the Alliance for Water Stewardship
Sits on the Steering Committee of The Forests Dialogue
Council member of the Better Cotton Initiative
Board member of Sustainable Nut Initiative
Board member of International Cocoa Initiative (ICI)
RE-IMAGINING GLOBAL AGRICULTURE AND FOOD SYSTEMS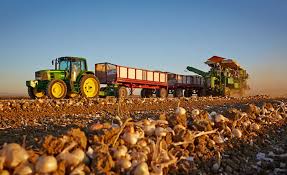 Unsustainable conversion or over-exploitation of forests and other natural habitats for food, fibre and other commodities threatens the natural life support systems, including soil, air, water, all living things, and the global climate, with serious implications for future generations. A response based on doing less harm, eliminating unacceptable practices such as deforestation at the scale of individual farms, plantations and concessions, or incremental improvements by companies representing a small fraction of the supply chain, will not be sufficient to meet these challenges, as evident over the last two decades.
Olam believes there is need, therefore, to re-imagine global agriculture and food systems so as to produce food and fibre sustainably within planetary boundaries, alleviate poverty, and provide employment and decent livelihood opportunities in rural areas, whilst also conserving natural habitats and biodiversity. Key impacts, risks, and opportunities associated with this social utility venture is covered in detail in the Olam's 2018 GRI report which could be downloaded here: http://bit.ly/2VEFoSL .
OTHER KEY HIGHLIGHTS OF THE REPORT
US$25.45m in medium and long-term finance made available to smallholder communities to alleviate income gaps and invest in farms
ACCESS TO TOOLS: Olam facilitates access to tools and equipment that help farmers increase their productivity and reduce their labour burden. For example, in Côte d'Ivoire in 2018, Olam financed 6 tractors to cotton cooperatives, financed 6,339 ox-drawn farming implements (4,848 ploughs, 102 harrows, 1,593 planters, 796 carts) to cotton farmers, and distributed 310,000 tapping cups to rubber farmers. In Democratic Republic of Congo, Olam provided 1,000 handsaws, 1,000 pruning shears, and 125 coffee cherry pulpers to coffee farmers. In Ecuador, 12,000 pruning tools were distributed to cocoa farmers. (20% gifted and 80% on 0% or low interest credit.)
PROCESSING: In Laos, 5 coffee farmers benefitted from 8 processing units, each consisting of a pulping machine, washing tanks, pump, and drying tables. In Nigeria, in order improve the income security of smallholder rice farmers and promote entrepreneurship, small rice processing units were installed for 3 of the best performing cooperatives by IFAD-VCDP as part of a collaborative programme.
STORAGE INFRASTRUCTURE: As part of the IFAD-VCDP programme, 3 warehouses for rice paddy and agro inputs storage were built and handed over to three cooperatives. Safe chemical storage was promoted in many businesses, including 1,217 pesticide storage units for hazelnut farmers in Turkey and 50 for cocoa farmers in Ghana.
SCHOOL CONSTRUCTION AND REFURBISHMENT: Includes renovation of 8 schools and construction of 4 teacher 23 housing units in Gabon (palm), refurbishment of a primary school block in Buno, Nembudziya, Zimbabwe (cotton), refurbishment of a 6 classroom block in Ghana (cocoa), construction of a 6-classroom school in Côte d'Ivoire (cotton), construction or refurbishment of a school in Côte d'Ivoire (cocoa), construction or refurbishment of a school in Laos (coffee), contribution toward construction of a secondary school in Zambia (coffee).
PEOPLE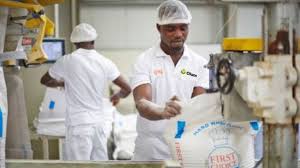 Olam has 38,000 full-time employees and 36,500 employees across more than 60 countries. Olam depends on the engagement, motivation and safety of her workforce to create responsible growth. Equally, Olam requires her suppliers to ensure that human rights are respected in their supply chains. Olam's global Fair Employment Policy seeks to: treat all employees with dignity and fairness; take a proactive approach to protecting the rights of people in all her workplaces. To achieve these, Olam works to:
Ensure compliance with all applicable national employment laws and international standards
Create a fair and non-discriminatory workplace that provides equal opportunity to everyone
Establish, maintain, and improve the worker-management relationship and ensure employees' rights to self-representation
Protect workers, including vulnerable categories such as migrant workers, and workers engaged through third parties
Prohibit the use of child labour and forced labour · Provide safe and healthy working conditions and promote the health of workers
ABOUT OLAM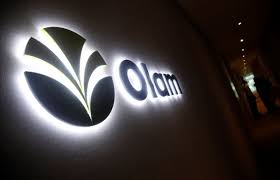 Olam International is a leading food and agri-business supplying food, ingredients, feed and fibre to 19,800 customers worldwide. Our value chain spans over 60 countries and includes farming, processing and distribution operations, as well as an estimated sourcing network of 4.8 million farmers. Through our purpose to 'Re-imagine Global Agriculture and Food Systems', Olam aims to address the many challenges involved in meeting the needs of a growing global population, while achieving positive impact for farming communities, our planet and all our stakeholders. Headquartered and listed in Singapore, Olam currently ranks among the top 30 largest primary listed companies in terms of market capitalisation on SGX-ST.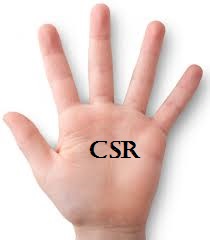 The CSR Arena is a CSR advocacy and sustainability-reporting-analysis champion. We encourage and celebrate effective CSR and positive social impact by responsible corporate citizens; we celebrate international best practices in sustainability reporting across different economic divides. Our goal is to realize the dream of development scholars that, 'corporates, more than governments, would bring about the much needed sustainable development across the globe. We partner with FBOs, NGOs, CBOs, governments and corporates to spread the message of sustainable development and corporate sustainability. Our platforms bear tales of good corporate citizenship – grab the microphone that you may be heard.  Contact: news@thecsrarena.com