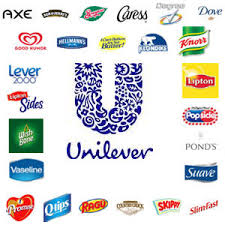 The Unilever Sustainable Living Plan (USPL) enters its eight edition with the release of the 2018 report. The USPL, which is Unilever's sustainability reporting framework was launched in 2010. The Unilever Sustainable Living Plan sets out to decouple the company's growth from her environmental footprint, while increasing positive social impact. The Unilever Sustainable Living Plan (USPL) has three major goals which devolves into nine commitments and targets spanning social, environmental and economic performance across the value chain. These goals and commitments are designed to drive the biggest change in society and support the UN Sustainable Development Goals (SDGs).
The 2018 is delivered in an interactive module covering the company's set targets around its major goals and commitments and the progress made so far. The three goals include: improving health and well-being for more than 1 billion people globally; reducing the company's environmental impact by half; and enhancing livelihoods for millions of people around the world. The company's efforts towards achieving these goals form the bedrock of the USLP performance reports. Performance reports are presented alongside the individual commitments corresponding to each goal.
USPL GOALS AND COMMITMENTS
Goal 1. Improving health and well-being for more than 1 billion

1.       Health and Income

2.       Nutrition

Goal 2. Reducing environmental impact by half

3.       Greenhouse gases

4.       Water

5.       Waste

Goals 3. enhancing livelihoods for millions

6.       Sustainable sourcing1

7.       Fairness in the workplace

8.       Opportunities for women

9.       Inclusive business
 *1* – sustainable sourcing as a commitment is common to both goals 2 and 3.  
For the company, beyond the targets, the purpose 'to make sustainable living commonplace' has inspired innovation, new ways of doing business and purposeful brands. Moving from one life-saving soap to many world-changing brands in over 120 years is a major footprint in ensuring sustainable living for every household, thereby making it common-placed.  For the the CEO of Unilever, Alan Jope, Nine years ago, the Unilever Sustainable Living Plan (USLP) was created to build a business that the world could be proud of. On his commitment to sustaining the progress, Alan declares, "I intend to build further on Unilever's century-old commitment to responsible business. It is not about putting purpose ahead of profits, it is purpose that drives profits".
 HIGHLIGHTS OF THE REPORT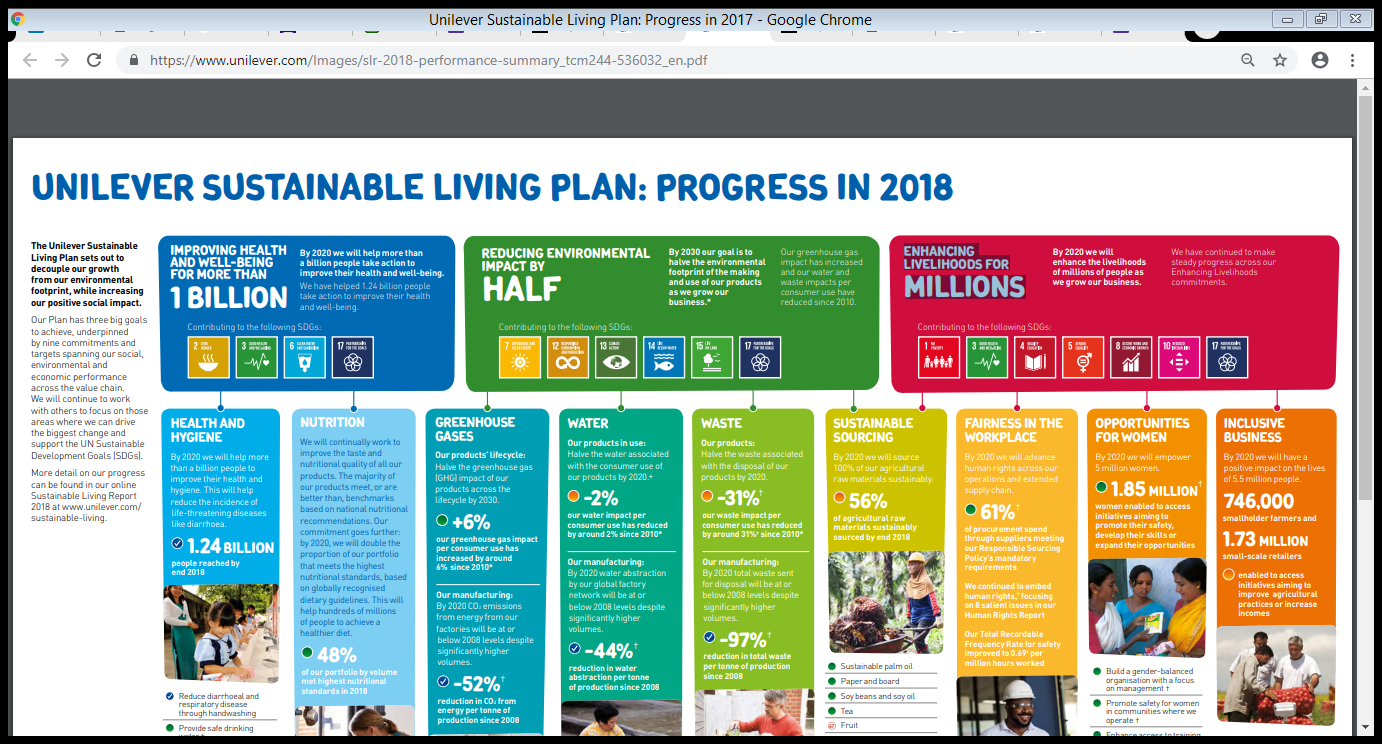 Helped 1.24 billion people take action to improve their health and well-being
Reduced diarrhoeal and respiratory disease through hand washing
Provided safe drinking water
Improved access to sanitation
Improved oral health
Helped improve skin healing
48% of portfolio by volume met highest nutritional standards in 2018
Greenhouse gas impact has increased while water and waste impacts per consumer use have reduced since
About 52% reduction in CO2 from energy per tonne of production
Greenhouse gas impact per consumer use has increased by around 6%
Water impact per consumer use has reduced by around 2%
44% reduction in water abstraction per tonne of production
31% reduction in waste impact per consumer use
97% reduction in total waste per tonne of production
56% of agricultural raw materials sustainably sourced by end 2018
Continued to make steady progress across the Enhancing Livelihoods commitments
85 million women enabled to access initiatives aimed at promoting their safety, developing their skills or expand their opportunities
746,000 smallholder farmers and 1.73 million small-scale retailers enabled to access initiatives aiming to improve agricultural practices or increase incomes
61% of procurement spend through suppliers meeting our Responsible Sourcing Policy's mandatory requirements
Total Frequency Rate for safety improved to 0.69† per million hours worked
Eco – efficiency: By cutting waste and reducing the use of energy, raw materials and natural resources, Unilever created efficiencies and cut costs, while becoming less exposed to price volatility. To-date the company has recorded over 600million Euros savings in energy cost.
More growth: Developed 26 sustainable brands that have so far surpassed the company's average growth rate.
Number one FMCG graduate employer of choice in around 50 countries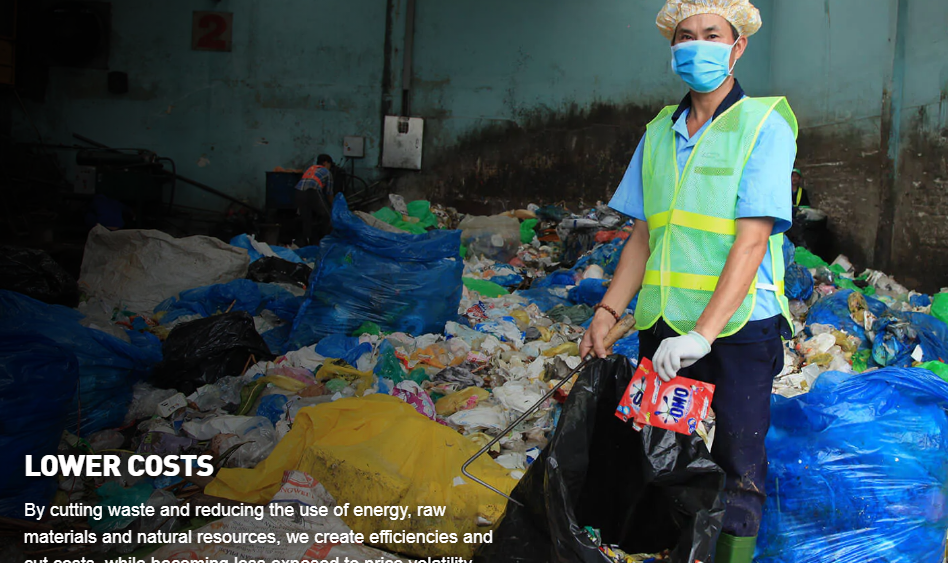 "We believe that business growth should not be at the expense of people and the planet. That's why we're changing the way we do business, and why we want to change the way business is done".
Launching, acquiring and developing brands taking stands on the big issues of our time, including packaging, sourcing, and waste.
Testing new investment models and partnerships to help deliver the Sustainable Development Goals.
Supporting new technology that gives consumers greater information about what's in their products.
By the milestones covered in this report, Unilever is proving that responsible business is good business.
Download the interactive report here: http://bit.ly/2VTbjfm  or read more about Unilever's sustainability performance here: http://bit.ly/2VQvwlF
ABOUT UNILEVER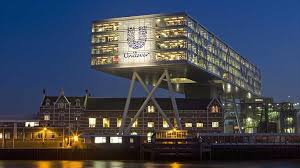 Unilever is a British-Dutch transnational consumer goods company with headquarters in London, United Kingdom. Its products lines include food and beverages, cleaning agents, beauty products, and personal care products. It is rated as the seventh most valuable company in Europe. Unilever was founded in 1929 through a merger between the Dutch margarine producer Margarine Unie and British soap maker Lever Brothers. Unilever employs about 172,000 staff globally and has presence in over 190 countries.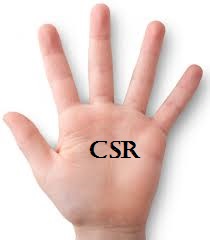 The CSR Arena is a CSR advocacy and sustainability-reporting-analysis champion. We encourage and celebrate effective CSR and positive social impact by responsible corporate citizens; we celebrate international best practices in sustainability reporting across different economic divides. Our goal is to realize the dream of development scholars that, 'corporates, more than governments, would bring about the much needed sustainable development across the globe. We partner with FBOs, NGOs, CBOs, governments and corporates to spread the message of sustainable development and corporate sustainability. Our platforms bear tales of good corporate citizenship – grab the microphone that you may be heard.  Contact: news@thecsrarena.com