Nestle, world's largest food and beverage company, has released her 2018 sustainability report chronicling her sustained and progressive efforts in creating shared value for both business and society, including successes recorded and commitments for the future. On the company's stand on Creating Shared Value (CSV), Paul Bulcke and Mark Schneider (chairman and CEO, respectively) opined, "at Nestlé, we believe that business results and positive societal impact should be mutually reinforcing. To be successful in the long term, we must create value for both our shareholders and for society. We call this approach to business, 'Creating Shared Value' and it is an integral part of our strategy". The 2018 sustainability reports reveals more about Nestlé's CSV strategy; it also provides insight on how Nestle is aligning her business and CSR strategies to the Sustainable Development Goals (SDGs).
The 60 – page report provides detailed information about issues, impacts and performance of Nestle against her commitments during the year. The report also features an independent assurance report by Bureau Veritas UK Ltd.
HIGHLIGHTS OF THE REPORT
29 million children reached by Nestlé – for – Healthier Kids programs globally
Reached 106 million children and families in eight countries with fortified foods and beverages
Over 26, 000 job opportunities offered to people under 30 years in 2018
Achieved a 10-year goal to distribute 12 million cocoa plantlets
Nutrition and health education workshops for 460 farmers in Kenya
Achieved goal to add 484 million portions of fibre-rich foods to products
440, 000 farmers trained on good agricultural practices to address locally identified issues
7,700 healthcare professionals benefited from Nestlé's collaborative programs with universities
Achieved 13.2% decrease in artificial colours
10, 000 tonnes of sugar removed from foods and beverages
Caring for Water Initiative: 10 projects in water-stressed areas across 10 countries
316, 474 beneficiaries reached through Nestlé's WASH project with the IFRC
Reduced emissions per tonne of product distributed by 7.6%
Shaping a waste-free future
Download the report here: https://bit.ly/2OoEt2J
NESTLE'S KEY CSV FOCUS AREAS
Nestlé's CSV, among other issues, focuses on three key areas in which the company's business intersects with society: Nutrition, Rural Development and Water.
Nutrition: – Global Nutrition Report estimates that about a third of the world's population suffers from deficiencies in essential vitamins and minerals, leading to impaired growth, physical and intellectual development and compromised immunity. In response, Nestle fortifies popular foods and beverages with micronutrients that are unavailable or deficient in local diets, focusing on children and families in developing and high priority countries.  Part of the commitments also include increase in the use of vegetables, fibre-rich grains, pulses, nuts and seeds in Nestlé's  foods and beverages. In 2018, Nestle participated in 10 initiatives, both global and local in nature, to reduce micronutrient deficiencies.
Rural Development: – The Nestles' Global Youth Initiative targets to reduce youth unemployment and promote economic empowerment for youths in rural communities. Nestle is also enhancing rural development and livelihoods through her 'Farmer Connect' program which is a long – standing initiative to support local farmers to thrive in their communities.
WATER: – As part of her commitment to reduce the impact of her operations on the environment, Nestle is working to improve water stewardship throughout her value chain. The company's water stewardship involves a three level approach: compliance with legal and regulatory requirements, as well as internal standards; this is followed by excellence in water stewardship, from efficiency to positive community relationships; and finally, collective action with local stakeholders to address shared water challenges. This three-step approach helps Nestle assess risks, promote best practice and focus efforts where it matters most.
ABOUT NESTLÉ
Founded in 1866 by Henri Nestlé with headquarters in Vevey, Vaud, Switzerland, Nestle is the world's leading food and drink company.  Nestle operates in 189 countries, has 447 factories, and employs about 339,000 people globally. The company serves the global market with over about 2000 brands for both infants and the whole family.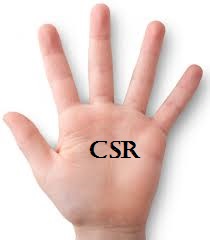 The CSR Arena is a CSR advocacy and sustainability-reporting-analysis champion. We encourage and celebrate effective CSR and positive social impact by responsible corporate citizens; we celebrate international best practices in sustainability reporting across different economic divides. Our goal is to realize the dream of development scholars that, 'corporates, more than governments, would bring about the much needed sustainable development across the globe. We partner with FBOs, NGOs, CBOs, governments and corporates to spread the message of sustainable development and corporate sustainability. Our platforms bear tales of good corporate citizenship – grab the microphone that you may be heard.  Contact: news@thecsrarena.com